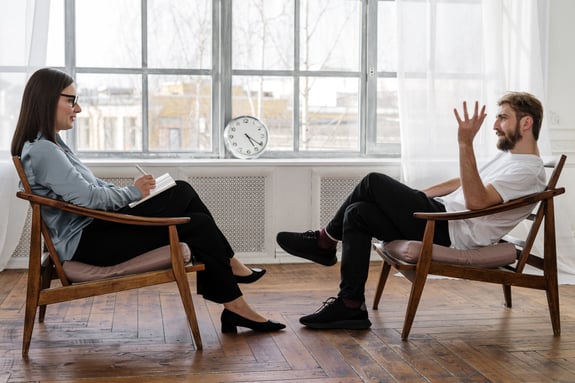 Therapy
Looking for a clinical counselor to help you get individual, marriage, or family therapy?

LiveWell has a large team of licensed mental health professionals including clinical psychologists, mental health counselors, marriage and family therapists, social workers, certified wellness coaches, and an advanced practice registered nurse.
The LiveWell treatment team is highly trained and educated with decades of mental health experience and tens of thousands of combined clinical hours. Our team is dedicated to care for you and your family through in-person and telehealth services.
Who do we serve?
We serve individuals who struggle with emotional or behavioral challenges, those who battle addictions, and people who want to thrive in their personal and professional lives.
Children of all ages

Teenagers

Young adults

Adults

Couples

Families

What do we treat?
Our diverse, multidisciplinary, team of mental health professionals cover a full range of treatment specialties including…
Depressive disorders

Anxiety and panic disorders

Obsessive-compulsive disorder (OCD)

Attention disorders testing and treatment (ADD, ADHD)

Trauma disorders testing and treatment (PTSD)

Learning disability testing

Pre-marital, marital, and couples

Grief and loss

Substance abuse and addiction

Pornography and sexual abuse

Behavioral problems and parenting skills
NOTE: we also offer psychological assessments, evaluations, and diagnostic profiles.
What therapeutic approaches do we use?
Our team of highly educated and experienced licensed clinical therapists utilize a wide variety of innovative treatment modalities including…
Psychotherapy

Cognitive-behavioral therapy

Dialectical behavioral therapy

Eye movement desensitization and reprocessing therapy (EMDR)

Behavioral activation therapy

Family systems therapy

Art and music therapy

Spiritual direction

Mindfulness

Journaling

Yoga

Medication management
"Where do I begin? Everyone here has helped me in one way or another and I cannot thank them enough. They gave me my life back. Anyone who is struggling with mental health or addiction should really give them a try. All the counselors and staff and therapists truly care for everyone who comes through these doors and wants to succeed. I am forever grateful for this opportunity. God bless you all."
"Living your best life is possible! It starts with living your life the best you can, one day at a time. We're here to help!"
"Just because no one else can heal or do your inner work for you, doesn't mean you can, should, or need to do it alone!
"Happiness can be found even in the darkest of times if one only remembers to turn on the light."